Icon is a semi-hardcore guild, in where we raid and down bosses but we do so without having our raiders have no social life. We are open to all that want a friendly atmosphere without the drama. If you feel this guild is the right fit for you feel free to contact a officer to get anymore information you feel relevant.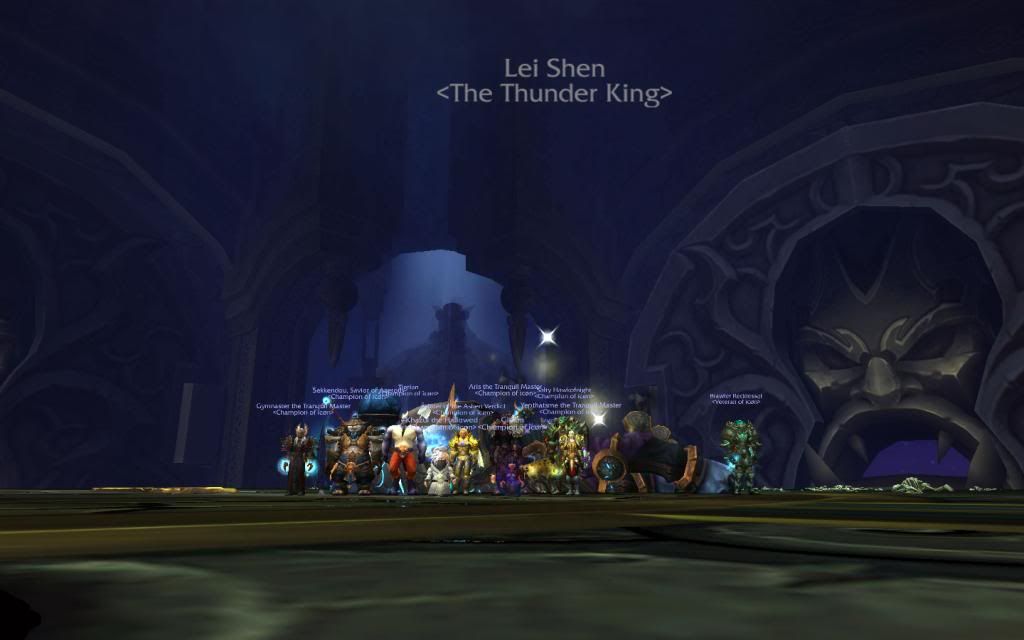 Team Annihilate: Lei Shen 10 Man Normal
Overall we plan to maintain our casual raiding style of play that you know and love about îcøn. We want to maintain multiple raid teams at different levels to give options to everybody depending on their game play and schedules. With that said, the officers and I made a list of rules to be clear to everybody on what is expected of you at any level. As many of you know, the goal in combining the guilds is to create a mythic raid team in Warlords. These rules are specifically geared towards the mythic raid team, but they do apply to all teams. Please take time to read these carefully. If you have any questions please ask me or any of the officers.
1) Come to raid with a good attitude, be on time and geared
Be on time to raid.
Put in the effort to gear your character, before raiding.
Be prepared to wipe with a smile, over and over again.
Be wary of your ego, our goal is progression.
Be prepared not to get loot.
The reason for this is, for îcøn to be able to push and make consistent progression we have to work as team and not as individuals. Some of the new boss encounters are very challenging and take a lot of work, not only for the individual but also within the group dynamic as well. As we progress we may need to shift the composition of the group from boss to boss. Be okay with being flexible as we attempt to get everything on farm. Any changes in team dynamics will be communicated openly and will be transparent to the group.
2) Communication
Ventrillo is mandatory.
Anyone from this point forward must have a microphone to be a part of the team (this does exclude certain people (Jess, Space, etc.), but anyone from this point on needs a microphone).
3) 100 in three weeks
In order for you to be considered for a spot on the mythic roster but you need to get to level 100 on any character in three weeks time.
We leave the choice of character to level up, up to you; we are not requiring certain classes (although after 3 weeks we may be asking for certain rolls)
A calendar event will be set to mark the three-week period after Warlords comes out.
A calendar event will be set up for the first raid, starting in normal, progressing to heroic, prior to our mythic run.
4) Be involved and prepared
Placement on the mythic team will be contingent on each player's game play.
Discretion of who is on the team is up to the raid leaders.
It is the responsibility of the individual raider to have learned as much as possibly about the fight, prior to coming to raid. This includes video explanations, practice on LFR, normal and heroic, etc.
It is to your benefit to learn how to look at your numbers and understand how to push your numbers within your individual class. We keep logs after every raid to look for ways to improve.
If you're having issues with numbers:

Ask for help, specifically from someone that plays the same class as you.
Practice over and over again, attempting to increase your numbers.
Do research; look for online class guides and strategies.
If all else fails, ask your raid leader for help.

If you have a hybrid class, be willing to be flexible with spec.
Group composition may be key on progression fights. Flexibility in your class and flexibility within the group will be required of each individual raider.
5) Loot rules
As it always has been in îcøn, loot will be distributed in a manner that benefits the group before the individual.
With the new gear mechanics, specific items may purposely be given to specific characters for future encounters.
Loot discretion is solely up to the raid leader. That being said, specific rules always apply:

Main spec before off spec.
For two consistent members of a group, loot will be given to the member who will gain the biggest benefit from the item.
If everything is equal, those that want the item will roll for it.
6) Attendance
After 2 unexcused absences you will be removed from the mythic raid team.
If you are going to miss or be late to raid, please contact your raid leader prior to raid, if at all possible.
Informing your raid leader of your absence ahead of time does not count as an unexcused absence.
All of the officers phone numbers are in the Info tab on the Guild Page.
7) Plasks and Fots
As it is always been in îcøn, our goal is to be able to supply flasks and pots, enchants, gems, etc. to the raid team. With that said, at the beginning we will not have a good supply to be able to supply the raid. In the beginning, try to be as self-sufficient as possible until we as a guild have a surplus.
8) Drama, selling and loot
As it is always been in îcøn, we do everything in our power to minimize drama.
We as a group strive for transparency; if issues arise address them to the team, do not keep it hidden or secret.
It is important for us to have each other's backs at all time; if you even think that a problem needs to be addressed, bring it up.
There is no selling of loot within the team; if you need to trade an item with someone else for the benefit of the group, the trade must be free of charge. This goes for pugs as well.
9) Alts
We are not requiring alts, but consider keeping your options open because the composition of each fight may need specific classes. Also consider that there may be seven hunters and only one shaman or five mages and only one disc priest. For better class dynamics and more potential for loot gains, consider the group as a whole when considering an alt.
Your humble GM,
-Zee